Archived Blogs from 2019
12/30/2019
&nbsp &nbsp &nbsp &nbsp I didn't do much creative writing last week. I spent time with family and my extended family and my church family. Food, food, food! Now I have to get back to drawing and writing and eating a little less to make up for last week's feasts and lack of productivity.
&nbsp &nbsp &nbsp &nbsp Bob :)

12/23/2019
&nbsp &nbsp &nbsp &nbsp My week was a little bumpy. Went to the dentist. The hygienist said that my teeth are in good shape and you are taking good care of them. Then the dentist came in and said I need $6000 worth of work. Three cracked teeth. Then my large drawing Wacom pro monitor went out. A lot of money to replace it. With Christmas presents for my kids and grandkids, this has been an expensive week.
&nbsp &nbsp &nbsp &nbsp But had fun at church serving the Lord at our Christmas dinner.

&nbsp &nbsp &nbsp &nbsp Bob :)

12/2/2019
&nbsp &nbsp &nbsp &nbsp Two months ago I sent out letters with my book to several famous pastors, evangelists, and Christian celebrities to get blurbs for my book. I received one response. And after several emails back and forth, this international evangelist wrote a blurb for me. I liked it so much that I am going to include it in a Forward in my next book. Here is what he wrote:
&nbsp &nbsp &nbsp &nbsp "I believe the strength of a book is largely determined by the character of the author. Fortunately for us, Bob Leone's heart is genuine and he lives out his faith. He has strategically written a fascinating fictional story to help us learn valuable lessons in a creative way. C.S. Lewis wrote in a similar vein about the spiritual realm in The Screwtape Letters. Lewis believed the Devil uses two "equal and opposite" strategies. One is to convince us he does not even exist. The other is to get us "to feel an excessive and unhealthy interest" in the demonic realm so much that we forget the One who conquered and has the power over that spiritual realm. Lest we minimize the power of fiction, one need only remember the parables and fictional stories told by a man named Jesus. As I was reading the book, an intriguing question popped into my mind: What would you get if you crossed Buffy the Vampire Slayer with the Screwtape Letters? Read the Shadows Series by Bob Leone and you just might find out!"
&nbsp &nbsp &nbsp &nbsp –Larry Bubb, Professor, International Speaker, Recording Artist, Homiletical Humorist, CEO and founder of Larry Bubb Ministries
&nbsp &nbsp &nbsp &nbsp Bob :)

12/9/2019
RIDDLE
&nbsp &nbsp &nbsp &nbsp Two men were sitting under a tree. One was reading a book. The other was writing a book. A lion came by and ate the man reading the book. Why?
&nbsp &nbsp &nbsp &nbsp Answer: Everyone knows that readers digest and writers cramp.
&nbsp &nbsp &nbsp &nbsp This week spent all my time going over the edits that I received from the publisher from my book "More Than Just Shadows".
&nbsp &nbsp &nbsp &nbsp I wrote my first book "They Don't Cast Shadows" in the present tense. This time they wanted it all in the past tense.
&nbsp &nbsp &nbsp &nbsp Bob :)

12/2/2019
&nbsp &nbsp &nbsp &nbsp Yeah! December! That means Christmas is just a few weeks away!🎄
&nbsp &nbsp &nbsp &nbsp Working on fleshing out the outline on my third book, "Terror in the Shadows".
&nbsp &nbsp &nbsp &nbsp Someone sent me an email wanting to know if one of the demons in my first book was named for Obama. I told her no, the names aren't even spelled the same. Barack vs. Barakah. I said that I chose Middle-eastern names for the demons and Hebrew names for the angels. Besides, if I had meant to name a demon after Obama I would have named the other one Hillary. (No offense to any liberals)
&nbsp &nbsp &nbsp &nbsp Bob :)

11/25/2019
&nbsp &nbsp &nbsp &nbsp Nothing much in the way of writing this week due to helping with the Operation Christmas Child ministry at church.
&nbsp &nbsp &nbsp &nbsp Bob :)

11/18/2019
&nbsp &nbsp &nbsp &nbsp Finished three episodes of Human Beans comic stories. They come out once a month starting in January 2020. I needed to get ahead of the curve to give me a cushion for holidays and vacations and such.
&nbsp &nbsp &nbsp &nbsp My book "They Don't Cast Shadows" has a five-star rating on Amazon! I am pleased with that.
&nbsp &nbsp &nbsp &nbsp The second book in the Shadow Series, "More Than Just Shadows", has been approved by the publisher. Now starts the long process of waiting for the editing, layout, cover illustrations, etc.
&nbsp &nbsp &nbsp &nbsp Still outlining the third book in the Shadow Series: "Terror in the Shadows".
&nbsp &nbsp &nbsp &nbsp Not anticipating getting much being done this week. I am helping at my church with the Franklin Graham Shoebox ministry. Our church is the central collection point for all of the churches in our area.
&nbsp &nbsp &nbsp &nbsp Bob :)

11/11/2019
&nbsp &nbsp &nbsp &nbsp Still waiting for publisher's approval on my second book, "More Than Just Shadows".
&nbsp &nbsp &nbsp &nbsp Working on my Human Beans comic story for the reintroduction on my website in January 2020.
&nbsp &nbsp &nbsp &nbsp I sent letters out to several Pastors and Christian entertainers for a book blurb. I received one positive response so far. I figured it was a shot in the dark, but if you don't ask you'll never get a blurb.
&nbsp &nbsp &nbsp &nbsp Working on my third book in the Shadow trilogy. I haven't come up with a good title yet. I can feel the ideas bouncing in my head. Running in the Shadows? Walk Among The Shadows? Terror in the Shadows?
&nbsp &nbsp &nbsp &nbsp Bob :)

11/4/2019
&nbsp &nbsp &nbsp &nbsp Still waiting for the publisher's approval for the second book in the Shadow trilogy.
&nbsp &nbsp &nbsp &nbsp Working on my Human Beans comic story for the reintroduction on my website in January 2020.
&nbsp &nbsp &nbsp &nbsp Starting idea sheet for the third book in the trilogy. Characters, main plot, and title.
&nbsp &nbsp &nbsp &nbsp I went to a funeral (Celebration of Life) for my brother-in-law on Saturday. It is sure a big difference going to a saved person's funeral than an unsaved one. There was laughter and good stories to tell about him.
&nbsp &nbsp &nbsp &nbsp Bob :)

10/28/2019
&nbsp &nbsp &nbsp &nbsp Waiting for publisher to accept my second book. It has been a week. Good sign or bad sign?
&nbsp &nbsp &nbsp &nbsp I was in the post office Wednesday mailing my book to my son in Spokane. I had my book on the counter as I was filling out the padded envelope when a lady approached me and said, "Is that a book about teenagers?" I said yes, a fiction fantasy/romance story. She said that she was a high school principal and if I had another copy. I quickly got one out of the car and she bought it. Amazing. Besides Amazon and Barnes and Noble, I have it for sale in a local bookstore. I am working on getting it in other independent bookstores in the area.
&nbsp &nbsp &nbsp &nbsp Working on my Human Beans comic story for the reintroduction on my website January 2020.
&nbsp &nbsp &nbsp &nbsp A little scared to start my third book in the trilogy until I know if the second one is approved for publication.
&nbsp &nbsp &nbsp &nbsp Bob :)

10/21/2019
&nbsp &nbsp &nbsp &nbsp I don't know how many of my book "They Don't Cast Shadows" have been sold on Amazon, but I received a five-star rating from one person. So I guess that's a good start.
&nbsp &nbsp &nbsp &nbsp I am sending my second manuscript "More Than Just Shadows" to the publisher today for their approval. It goes in front of their board, may take a week or two until I hear from them. Keeping my fingers cross and of course praying, for its acceptance. &nbsp &nbsp &nbsp &nbsp Writing scripts and drawing my Human Beans comic stories for the re-release on my website in January 2020. &nbsp &nbsp &nbsp &nbsp Bob :)

10/14/2019
Hurrah!! My book "They Don't Cast Shadows" is finally out on Amazon.com and Barnes and Noble. The e-book will be coming next, then a video, etc. Whew, the process is sure slow, or at least that is the way I'm feeling it. "Here is a link to my book page on Amazon"
Working on the second book in the series, "More Than Just Shadows". It has been already edited by my expert editor Caroline. But just going over it with a fine-toothed comb before submitting it to the publisher for evaluation and approval by their board.
Finished the Human Beans comic story for the January 2020 posting on my website. It is twelve panels long. A fun story.
Bob :)

10/07/2019
I received the proof copy of my book from the publisher. 189 pages. I am guessing that once it is approved it should start appearing on Amazon and Barnes and Noble websites. Since everything is a waiting game, I am guessing another three weeks for that? I may be wrong, for this is the first time doing this.
Working on my Human Beans comic stories for release in January 2020. Writing comics is way different that writing a novel. Lol, you show with pictures instead of words. Complete opposite style.
Bob :)




9/30/2019
My second manuscript "More Than Just Shadows" is done. Well, as done as the first writing and editing goes. I am setting it aside for a week or two, then re-reading it to look for any flaws before sending it in to see if it gets approved by the publisher.
My first book "They Don't Cast Shadows" is in print, or so I am told. Still waiting for my copies and for it to start appearing on Amazon and Barnes and Noble. Then I will start hitting the independent bookstores. It is (will) be available on the distributor Ingram so they can order it. When I finally get a copy in hand I will take a picture and post it, as of right now still waiting, and waiting, and waiting...
Drawing butterflies... and more butterflies... for a friend's logo.
Bob :)
9/23/2019
The last chapter of my second book "More Than Just Shadows" is finished and being edited by my wonderful editor Caroline.
Finished the Penguin illustrations. I can't wait to see the book, "The Tales of Flippers and Flappers".
Speaking of waiting, I am still waiting for my proof copies of my first book "They Don't Cast Shadows" from the publisher. This whole process has been a test of patience.
Writing Human Beans scripts. I will start drawing soon for the reintroduction on my website in January 2020. The Human Beans comic stories will be coming out monthly. So I am planning to draw three stories ahead of time. In allowance for vacations, or other situations.
Bob :)
9/16/2019
Continuing working on my second book, "More Than Just Shadows". Carolyn and I are on the fifteenth chapter of a sixteen chapter young adult manuscript. She is a great editor I recommend her for editing your manuscript.
Finished the penguin illustrations. It was a fun project. I can't wait for the book "The Tales of Flappers and Flippers" to come out.
Waiting for the proof copies of my book, "They Don't Cast Shadows". Then it goes to their publicity department and distribution.
New ideas for my Human Beans comic stories keep popping in my head. I keep writing them down. I will start writing the scripts and drawing next month for the 2020 premiere.
Bob :)
9/10/2019
I finished the basic Penguin illustrations for a children's book. Now I am going over them with a fine-toothed comb checking for inconsistencies and formatting them to page size.
Waiting for the proof and test copies of my first book "They Don't Cast Shadows" from the publisher.
Carolyn and I are working on the second book "More Than Just Shadows". Getting down to the wire. She is editing chapter 13 of a 16 chapter young adult manuscript.
Listened to a webinar on marketing. It had a lot of useful information. However, at the end, it was a pitch to join the speaker's school which was very expensive.
My painting comes back from the framers on the 18th. Then I'll take it to the air museum. I am thinking next year to take a break from painting and concentrate on my books and of course, drawing my Human Beans comic stories.
Bob :)
9/2/2019
Continuing working on my second book. We are up to chapter twelve of a fifteen chapter young adult manuscript.
Working on the Penguin illustrations. One more story to left to illustrate.
Victory!! The publisher sent the redrawn my first book cover. Finally, I am happy with the results. My first book goes to printing next. Hopefully, it will be released next month.
Here is the picture that the publisher will use for the cover "CLICK HERE"
Bob :)
8/26/2019
Continuing working on my second book with my expert editor Carolyn, We are up to chapter eleven of a fifteen chapter young adult manuscript.
Working on the Penguin illustrations. We came up with a title for the book. Two more stories to left to illustrate.
My painting for the Hiller Aviation Museum is being framed. Don't know why it takes them three weeks to frame it. Maybe there is just a lot of people in the queue ahead of me.
Still waiting, waiting and waiting for my book cover to be finally finished. My guess is two more weeks? It seems like I am always waiting for something and I didn't even pray for patience.
Bob :)
8/19/2019
After my two week respite, it was enjoyable to get back to work on my projects.
Working on my second book with my expert editor Carolyn.
Working on the Penguin illustrations.
Finishing up my painting for the Hiller Aviation Museum.
And waiting, waiting and waiting for my book cover to be finally finished.
Bob :)
8/12/2019
I'm back!
Two weeks of riding a motorcycle in Sturgis, ND. I saw Mt. Rushmore and Deadwood, plus had fun riding.
Nothing accomplished but clearing my head for the days ahead.
One disappointing note. The publisher sent me the latest rendition of the book cover. It was excellent, except for the girl's mouth. So I sent it back. Sad, another three to four-week delay.

Bob :)
7/8/2019
Still waiting for my book cover to come back from the art department. I have my fingers crossed that it is just right. It seems like a lot of waiting.
Continuing my work on illustrations for a Penguins children's book.
Mailed off my painting to March Field Air Museum they should receive it by Tuesday.
Continuing painting a new picture for Hiller Aviation Museum. I have finished drawing the ten famous women of aviation, now I have three of the ten aircraft finished.
Working on the sequel to "They Don't Cast Shadows". "School of Shadows". Writing short summary for book blurb.
Writing scripts for my Human Beans comic stories which I will begin to post in January on my website.
Bob :)
7/1/2019
Waiting for my book cover to come back from the art department. I have my fingers crossed that it is just right.
Continuing my work on illustrations for a children's book (don't want to reveal the author's name unless I get permission to do so)
Getting my painting back from the framers tomorrow, then mailing it off to March Field Air Museum.
Continuing painting a new picture for Hiller Aviation Museum. I have finished drawing the ten famous women of aviation, now starting on drawing their aircraft. 
Working on the sequel to "They Don't Cast Shadows". I am thinking of calling the title of it "School of Shadows". I like the SOS acrostic of the title. Maybe use that some way?
Writing scripts for my Human Beans comic stories which I will begin to post in January on my website.  Bob :)
6/24/2019
I received the book cover from the art department. It mostly looked good. Had some minor issues. It went back for rework by their art department.
  Working on illustrations for children's book.
Working on picture for Hiller Aviation Museum entitled "Women in Aviation". I have eight of the ten women I am honoring completed. After that, I must draw their aircraft. A lot to go.
  Continuing writing of the second book in series (lol, not a series yet) for what I am hoping will be a series.  Bob :)
6/17/2019
Still waiting for my cover to be designed. Here is a quote from them:
"The cover of your book is currently being designed. Once our artists complete your cover design draft, the file will be uploaded to the portal and your Publication Specialist will send notification that is ready for your review. This process could take up to 3-4 weeks from when your title enters the department."
Soooo, this is only the second week, two more to go.
  I am working on other projects, Hiller Museum painting, Illustrations for book and many odds and ends.  Bob :)
6/10/2019
Still waiting for book cover preview from the art department.
Working on illustrations for children's book.
Working on picture for Hiller Aviation Museum entitled "Women in Aviation". Bob :)
6/3/2019
Finally, the publisher has approved my book out of the editing department and has sent it to the art department for cover design. Of course, I sent them a few ideas of my own, but I am curious to see what the professionals come up with.
I am continuing to clean up my website. I am going to restart my Human Beans comic stories in January 2020 and am already receiving positive feedback from some of my former followers. I think this will be good for my book also since I will be promoting it on the same website as my Human Beans.
I have completed a new true biographical story of a friend of mine. He was in the WWF, TV shows, in a motorcycle outlaw gang, and did time in San Quentin, before receiving Jesus into his heart. Please "CLICK HERE" Bob :)
5/27/2019

I am waiting for my agent to let me know when they are going to start on the book cover. It is back in the editing department for the fifth time. Lol, I bet they are sorry now for accepting my book.
I am working on a picture for March Air Museum, when that is finished I have one more to do for the year. It is for the Hiller Aviation Museum (I am thinking of drawing it with ten of the most famous women aviators with their aircraft in the background).
I am also thinking of starting up my Human Beans comic stories. I had fun doing them and had a lot of followers. I quit after ten years, for personal reasons, but I am thinking of revisiting my little Human Beans.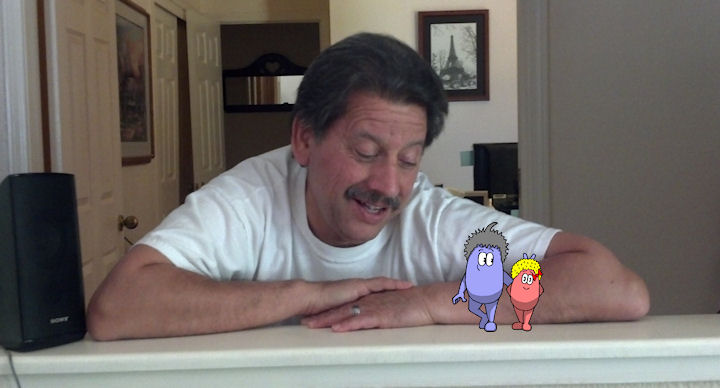 Bob :)
5/23/2019
I have completed three short exciting backgrounds (sort of prequels) to my new book, "They Don't Cast Shadows". Please "CLICK HERE" and scroll to the bottom of the page for links to the exciting prequels. Bob :)
5/20/2019
I am currently writing a little short story about the characters of my books. Sort of a prequel, but not long, just a little glimpse into their lives. Bob :)
5/14/2019
I have been thinking of restarting Little Jeffery and the Human Beans again.
This time instead of the funny joke type comics, I was kicking around doing a continuous adventure type storyline. What do you think? Bob :)
5/13/2019
The latest update on the saga of my book is that I finished going over the PDF file that the publisher sent me and made corrections. Now it is back with them. Maybe two weeks to resend me the final text layout. Then it is off to their art department for cover design. I have a few ideas so when it gets to the art department I will send them the sketches I drew. And see if they get any ideas from them. all of the editing and corrections. I am going to attach the sketches I drew and please let me know what you think. The book is a Christian romance/fantasy. Bob :)
5/9/2019

Concerning my novel "They Don't Cast Shadows" I had a little setback. My agent said that the PDF file she sent me was "Please review your Page Design thoroughly and submit any revisions you have via the format outlined below." and "only general format or design changes can be made at this stage"

Well, I found a couple of text changes that I can't live with so she says, "Text or content changes will require your title to be placed back in the editing department. "

So, when I finish making my corrections then it has to go back to their editing department, then back to design. A couple of weeks delay. I am making final corrections carefully.

So, sadly a little setback.

Bob :)
Copyright © 2002-2020 Aim Higher Books. All rights reserved. Be assured, that when you send your name, email, location, and comments to AHB (aimhigherbooks.com) we do not share your personal data with companies, organizations, or individuals outside of AHB. We may use your Personal Data to contact you with newsletters, marketing or promotional materials and other information that may be of interest to you. You may opt-out of receiving any, or all, of these communications from us by following the instructions provided in any email we send. If sending comments for the Human Beans Fan Page we will not publish your email address.